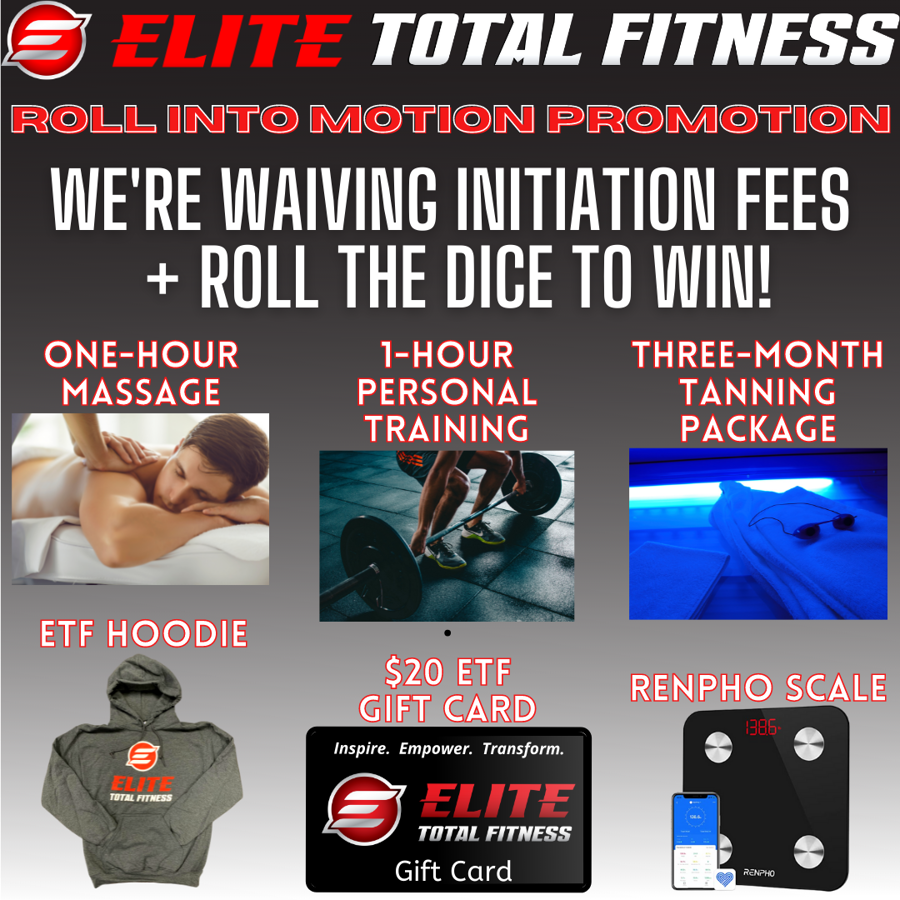 Elite Total Fitness
Roll Into Motion Promotion
Posted

Mar 22, 2022

Updated

3 months ago

(3/23/2022)
It's our first ever ROLL INTO MOTION PROMOTION!
We wanted to have some fun this month, so we are waiving our initiation fees until Friday, April 15, 2022 and you will roll the dice to see what you get with your NEW 1-year membership!
Will it be...
a one-hour massage?
three months of tanning?**
an ETF hoodie?
a personal training session?
a renpho scale or
a $20 ETF gift card?
On top of that, you choose ANOTHER fresh piece of ETF gear! Either an ETF t-shirt, water bottle or hat!
To FURTHER sweeten the deal, we'll also be giving two (2) free day passes so you can bring a friend or family member to work out with you at your new favorite gym!
We're located in the Elite Health Center, on the corner of Ave I and West 42nd Street in Scottsbluff.
(308) 633-1383
(308) 633-1ETF
www.EliteTotalFit.com
Our gym is accessible to members 24 X 7 and we are staffed:
Mon - Thur 11AM - 8PM
Fri 11AM - 5PM
Sat 11AM - 2PM
See you at the gym!!
**Individuals 18 years of age or younger may not win a tanning package. Any other prize may be chosen by this participant if "THREE-MONTH TANNING PACKAGE" is rolled.